Spring Detox Veggie Bowl [w/Dijon Caper Vinaigrette Dressing]!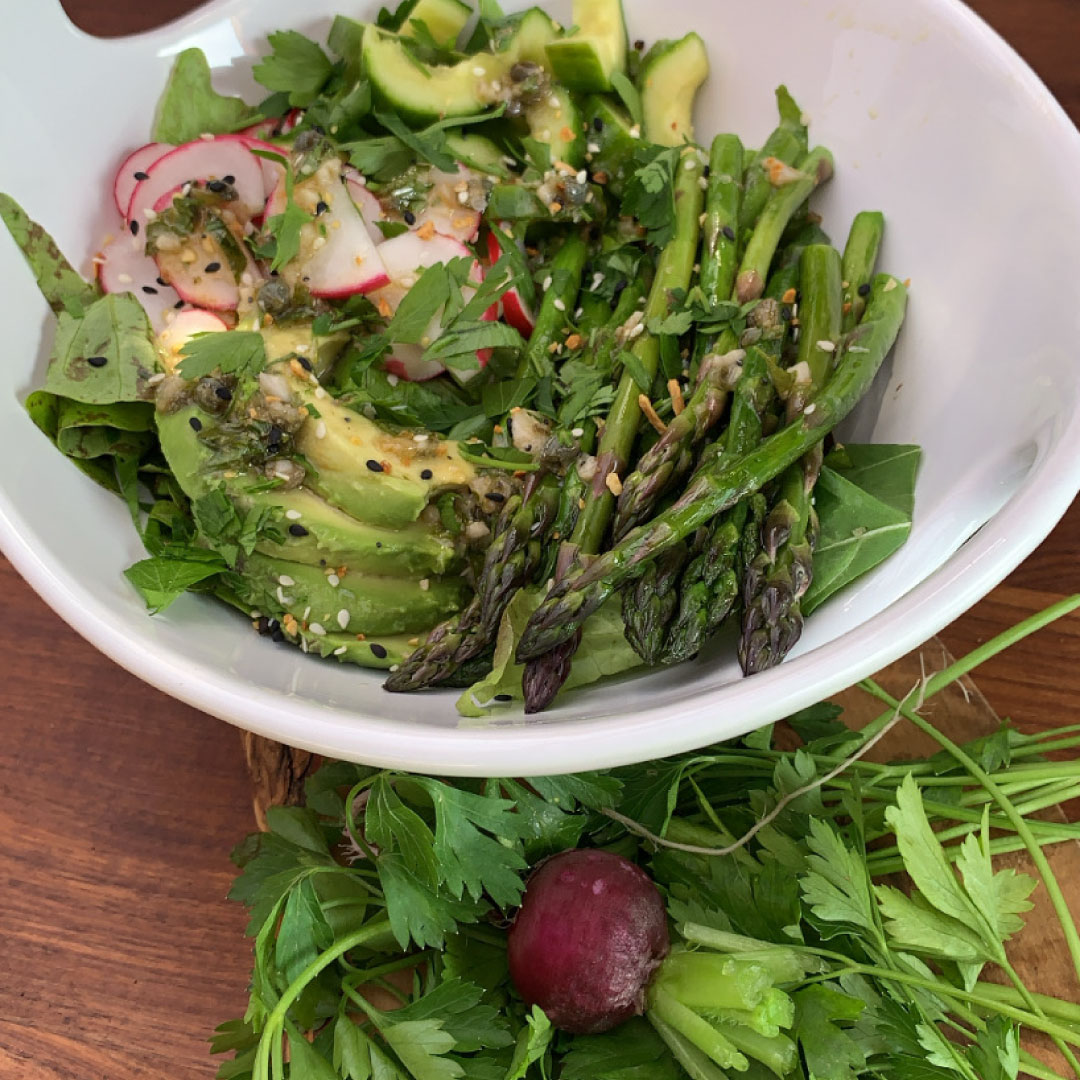 I'm ready for summer. But, my body? ????

I've been feeling sluggish lately, so I'm kick-starting my body by eating a daily spring detox veggie bowl [w/my Dijon caper vinaigrette dressing]!
Your body is designed to detox itself, but when you consume processed foods & sugar, [like me during quarantine] you may need help to things along. ????
My fav detox spring veggies.????
❶ Asparagus: Originally grown as a natural medicine, it's a diuretic, meaning it promotes the production of urine & can help fight bloating. Increasing the excretion of water from the body, it assists in ridding the body of excess fluid & toxins.

❷ Carrots: Full of beta-carotene, they're an antioxidant that may prevent cancer & slow the aging of cells [+ promote healthy skin, vision & digestion, as well as assist in cleansing the liver].

❸ Radishes: Can help calm inflammation, bloating & indigestion. They're full of Vitamin C, phosphorous, & zinc, which keep you hydrated [+ boost your immune system]!

❹ Cucumbers: Primarily comprised of water, they're great w/hydration.
⦾ Handful of lightly grilled asparagus [I toss them in a grill pan w/ghee & cook 2-3 minutes on med heat… I ❤️
@ancientorganics
]

⦾ ½ c chopped carrots
⦾ ¼ c sliced chukes [remove the seeds to limit digestion issues]

⦾ Handful of greens [I ❤️ baby lettuce & arugula]

⦾ ¼ c chopped parsley [great detoxer]!

⦾ 1 c quinoa [or other whole grain]
✅ Start w/the grain, then add the greens & veggies. Top w/parsley & dressing [recipe below].????
⦾ 1 tbsp chopped capers [they add great flavor & saltiness]
✅ Mix the first 5 ingredients & then drizzle in the olive oil. You may need to adjust the seasoning depending on the strength of your garlic.
Enjoy and happy detoxing! ????