I was living my best life. I was the on-air healthy living expert at Q13 Fox News in Seattle and traveling around the country as a professional wellness speaker. I was happily married to the man of my dreams; I had an awesome mom, kids, nephews, and a fantastic group of girlfriends. Life was good.
I went in for my yearly mammogram but was delayed a few months due to covid. I got a call back that I needed to go in for a biopsy, nothing serious, but I needed to make sure all was well.
The night before receiving "the call," I was happily dressed up as a mermaid at my book club meeting. After all, when you read a book about mermaids, it's necessary to dress like one!
September 1st, 2020 (excerpts from my journal)
I barely remember the words, "You have breast cancer." 
I was shocked. I'm a nutritionist. I run half-marathons and do yoga. 
The weight of it all and the lack of control turned my world upside down.
I sent a text to one of my besties, Kim, with one word, "cancer." She mobilized my girlfriends, and she, Patty, and Kathy came over, brought a bottle of wine and pink bracelets. Kathy had battled breast cancer two years earlier, and she gave me an overview of what I could expect these next few months. I couldn't stop crying. I don't want to have breast cancer. I want my life back.
We drank a glass of chardonnay and put on our pink bracelets. We all agreed that none of us are taking them off until I'm cancer-free.
September 5th, 2020
I have to get comfortable being unclear about my future: chemotherapy, radiation, or mastectomy. I wake up every morning at 3:00, unable to stop worrying. My nerves are raw. I can't allow my mind to wander when I'm tired. It never goes to a good place.
September 10th, 2020
Our lives have changed so much. I love routine; it makes me feel comfortable and safe. Nothing is routine anymore. I'm at the hospital two days a week. How do I battle cancer and work full-time?
September 11th, 2020
Today I had a fifty needle biopsy. I have no words for the amount of pain this has caused. They gave me valium to keep me calm during the procedure. It took three hours; I was awake the whole time. I'm trying to dig deep and be strong. I'm failing.
September 12th, 2020
I've been putting off telling my mom and kids until I had more information. Surgery is coming up soon, so I know it's time to break the news. I can't tell my mom; Steve will have to do it; I know she'll be devasted.
September 18th, 2020
It's pre-op day. I'm scheduled for a lumpectomy. I'm grateful I don't have to get a mastectomy. I want to keep my breast. My oncologist thinks she will have no problem getting the cancer out. I will then have a couple of months of radiation but no chemo. I'm so grateful!
September 23rd, 2020
My surgery is tomorrow. 
I'm a bit terrified; I hadn't had surgery since I got my tonsils out when I was five.
My girlfriends surprised me by tying pink ribbons on all the trees in my driveway and filling my carport with pink balloons and signs. I don't know how I'd do cancer without my friends and family.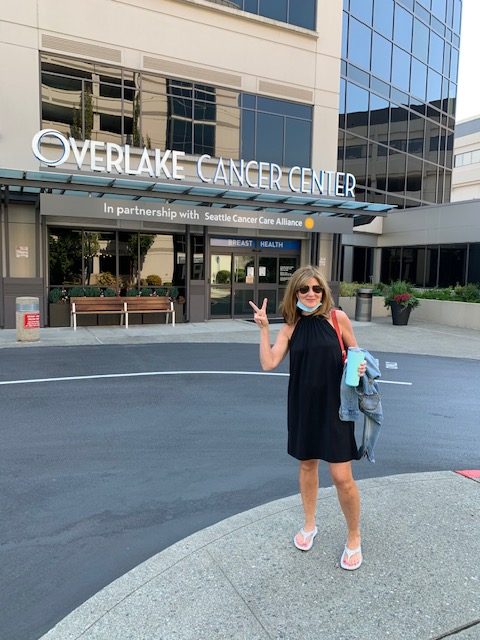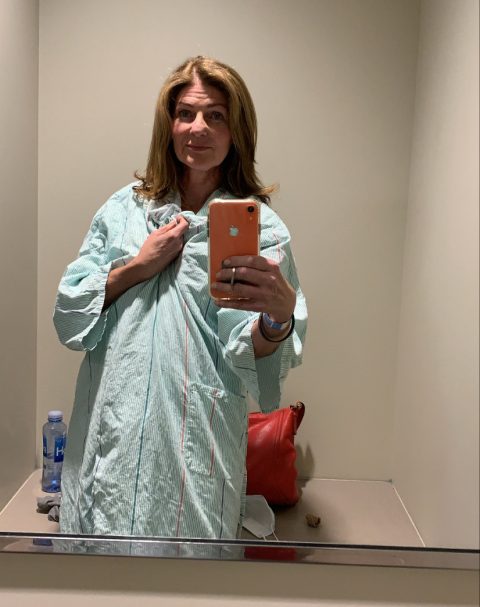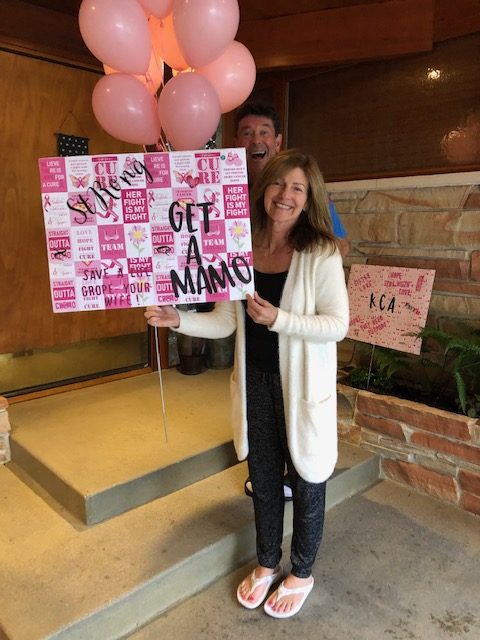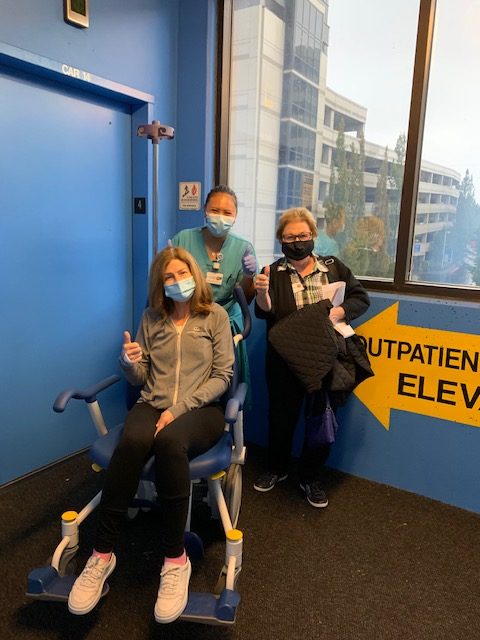 The waiting has been the hardest, and yet I complain that it's all going so fast. Waiting for pathology reports has been the most challenging part for me; that's when I need to stay busy, seek God and remember how good he has always been to me.
I need to trust God even when I'm mad at him. I don't feel the anger like I did in the early days of cancer. In the early days, I felt abandoned by him; why was he allowing this to happen? 
God, speak to me! Could you show me your WHY?
September 26th, 2020
I just heard from my oncologist; she didn't get all the cancer out. She needs to get clean margins, so she needs to do another lumpectomy.
I had my phone on speaker, so now my mom knows too; it makes me sad to see her so upset.
I hate feeling so out of control.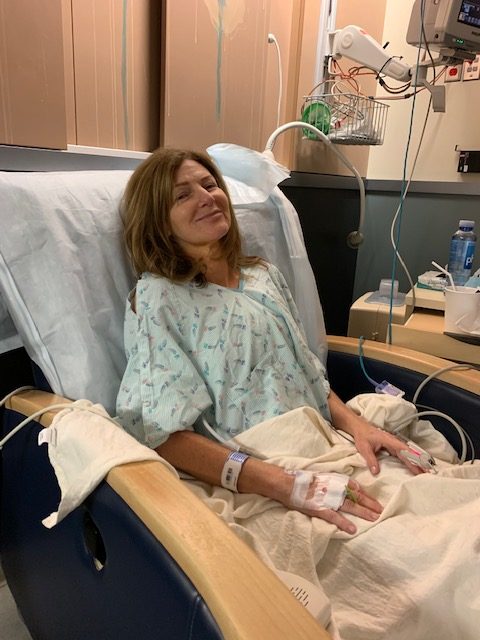 Finally, I decided the only aspect of cancer that I could control was me. There was a place between receiving news and reacting that I could control. I could take a deep breath; I could manage my thoughts; I could rely on faith, friends, and family to get me through this.
I couldn't control my next surgery, but I could face it with a good attitude and positive outlook.
After two lumpectomies, they still couldn't get clean margins. So we decided to move forward with a mastectomy on November 17th, 2020, followed by reconstruction on March 12th, 2021.
I am now cancer-free but will continue with the hospital surveillance protocol for the next five years.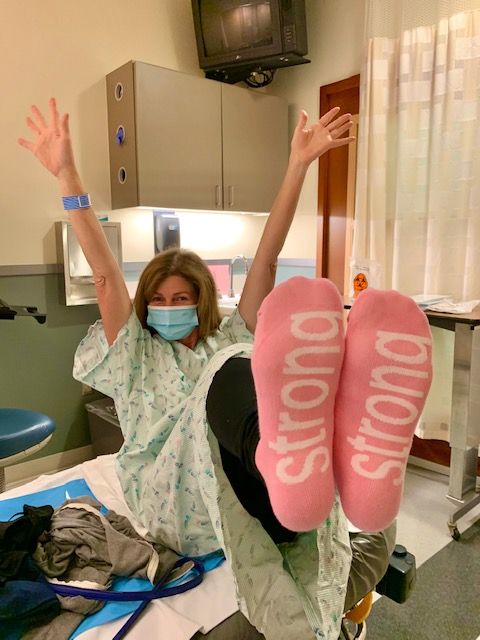 What I've learned on my journey is early detection is critical, and attitude is everything. I might have had a different outcome if I'd skipped my mammogram.
When I was finally declared cancer-free, I was on my knees, thanking God and asking him what was next for me?
I felt that still small voice deep inside, and it said, "go look up the website, WhyDidIGetCancer.com
"Really, God, right now?" Off I went to my laptop. I googled, why did I get cancer? 
As you can guess, the web address was still available. I'm now the proud owner of, www.WhyDidIGetCancer.com
My new mission is to help others through their cancer journey, encourage early detection and educate about lifestyle choices so maybe I can save people some of the pain I went through.
God finally showed me his WHY.

Make Sure to Watch my
Segment from NewsNation
Healthy lifestyles alone may not reduce risk of breast cancer
Be the first to receive updates on the latest posts & more!
"*" indicates required fields