Produce, Produce, Produce.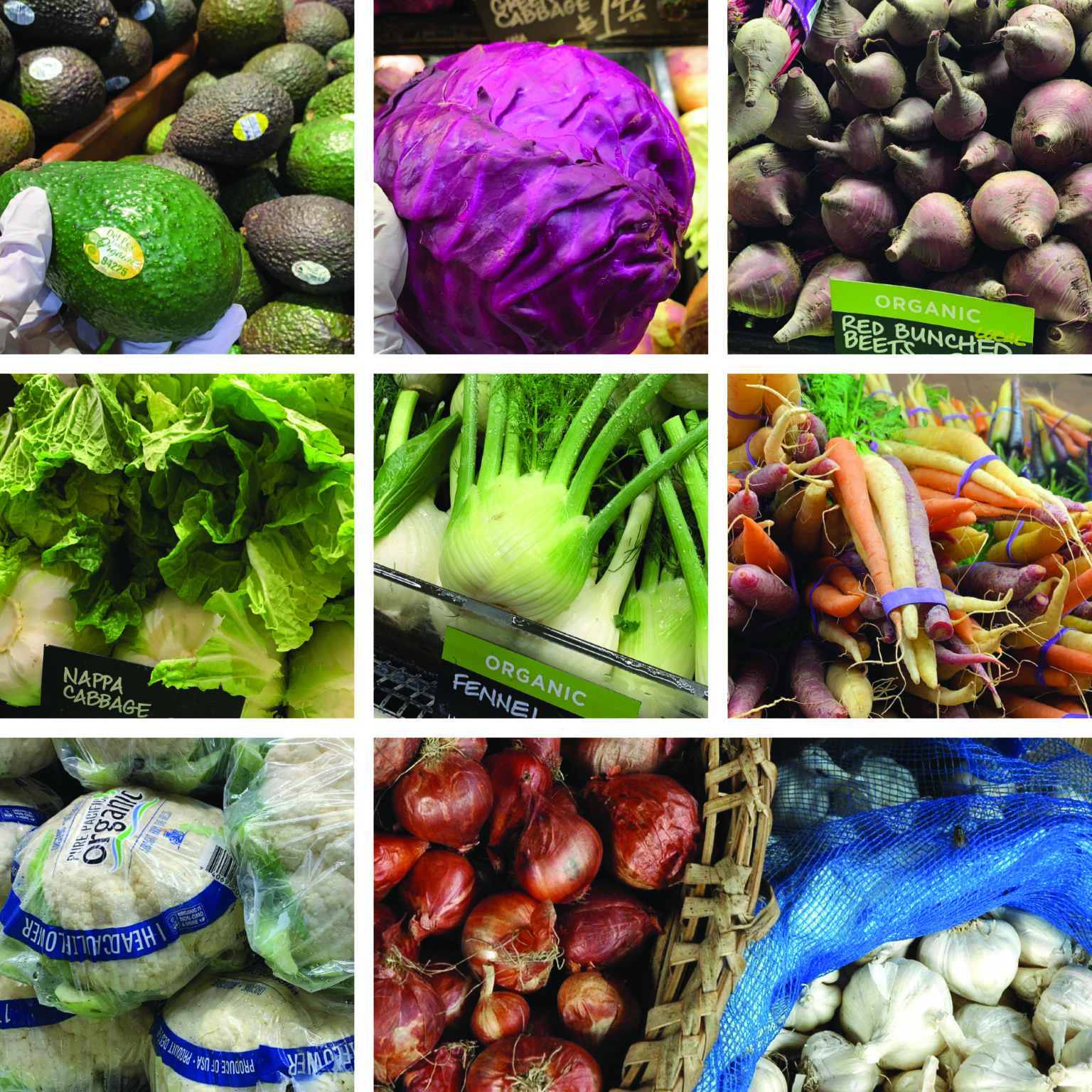 I'm really trying to limit my supermarket trips to once every two weeks. I honestly can't believe how much I miss going to the market.
Produce is the most challenging item on my list to make last for two weeks. And, because I've been eating so many carbs and junk food, produce is really what I NEED to help reset my system. ????
Here's what I bought this week, my reasons why, and how I'm going to use it…
▶ Avocados: I buy a variety of firmness, ensuring there are couple that are as hard as rock so they'll take 7-10 days to ripen. ???? I mash them with a dollop of mustard, salt & pepper, and a squeeze of lemon. Then, I place them in a container with plastic wrap on the top, touching the avocado. I use this for avo toast and/or to garnish my salads and grilled veggies. 
▸ My avocados are stored on my counter until the skin yields a bit and then it's time to put them in the fridge. 
▶ Purple Cabbage: I know cabbage [any veggie in the cabbage fam] can be hard to digest. BBQ to the rescue! I slice the cabbage in 1-2 inch thickness, so it looks like a thick plate. I brush it with @bellavado Avocado Oil [high smoke point] and grill it over medium heat for about 5 minutes each side. The heat softens it up and then I shred it and add it to salads. So yummy! ????
▸ I store my cabbage in the fridge until it's time to use it. Don't wash it until you need it, otherwise it can get moldy.
▶ Beets: A fantastic source of fiber and helpful for detoxing [Lord knows I could use a little detox right now]. Pssst… Check out my recipe for a delicious Beet Salad!
▶ Napa Cabbage: This cabbage is a bit softer than the firm heads of purple cabbage, so it's much easier on the digestive system. I actually don't even cook this up… I just shred it for salads, tacos or use the leaves as lettuce wraps.
▸ Napa Cabbage is a high fiber option for "lettuce" in a salad and the higher fiber content will keep you fuller longer and help prevent junk food cravings!  ????
▶ Fennel: Such a yummy spring veggie and will last in your fridge for a solid two weeks. I shred it into salads and it goes great with citrus. In fact, one of my favorite salads is sliced fennel with orange wedges and simple vinaigrette. This also pairs well with sautéd prawns. High in Vitamin C, it's a fantastic immune system booster.
▶ Carrots: You can shred them into a salad or chop in 1-2 inch chunks, drizzle with Avocado Oil and grill them in a BBQ basket. Carrots are a great source of antioxidants and Vitamin C.
▸ I store my carrots in my crisper. Don't wash them until you're ready to use them!
▶ Cauliflower: This hearty veggie can last in your fridge for up to 10 days [or longer]. I like to cut in bite-sized chunks and grill in my BBQ basket. I really season my Cauli as the flavor can be a bit bland. I usually give it a good dose of salt & pepper and my fav — @everything_but_the_bagel seasoning from @traderjoes.
▸ Cauliflower is another high-fiber-winner, so it should keep you full for hours after eating. I don't usually eat it raw, as it can be tough to digest.
▶ Onions & Garlic: These are immune-system-rockstars! ✨ Store in a cool/dark area of your pantry. Always remove them from the plastic bag, so there's airflow. 
▸ I store mine in a wire mesh basket so there's plenty of airflow. I've had some of my garlic last for 6+ months!
Check out one of my FAV recipes for ???? Pickled Onions ???? [from @farmgirlsdabble]. I put them on everything… From avo toast — to tacos — to salads.
INGREDIENTS:
INSTRUCTIONS:
⓵ Slice the top and bottom off the onion and then cut it in half, from top to bottom. Remove the outer peel. Lay the cut surfaces of the onion onto the cutting board and then slice into half-moons about 1/8″ thick [using a very sharp knife].
⓶ In a medium saucepan, whisk together apple cider vinegar, red wine vinegar, sugar, and salt. Place over medium-high heat and bring mixture to a boil. Whisk until sugar and salt dissolve, then remove pan from heat and whisk in allspice and red pepper flakes.
⓷ Carefully add sliced onion to the pan and gently stir to combine. Let mixture cool completely at room temperature, stirring occasionally.
Pour into a glass container [I like to use a large canning jar], cover tightly with a lid, and refrigerate until thoroughly chilled. The pickled flavor will intensify over time, but it's good to go after resting overnight in the refrigerator. This recipe is for refrigerator-pickling-only and needs to be stored in a refrigerator.
⓸ Bon Appétit!