15-Min Summer Salad Bowl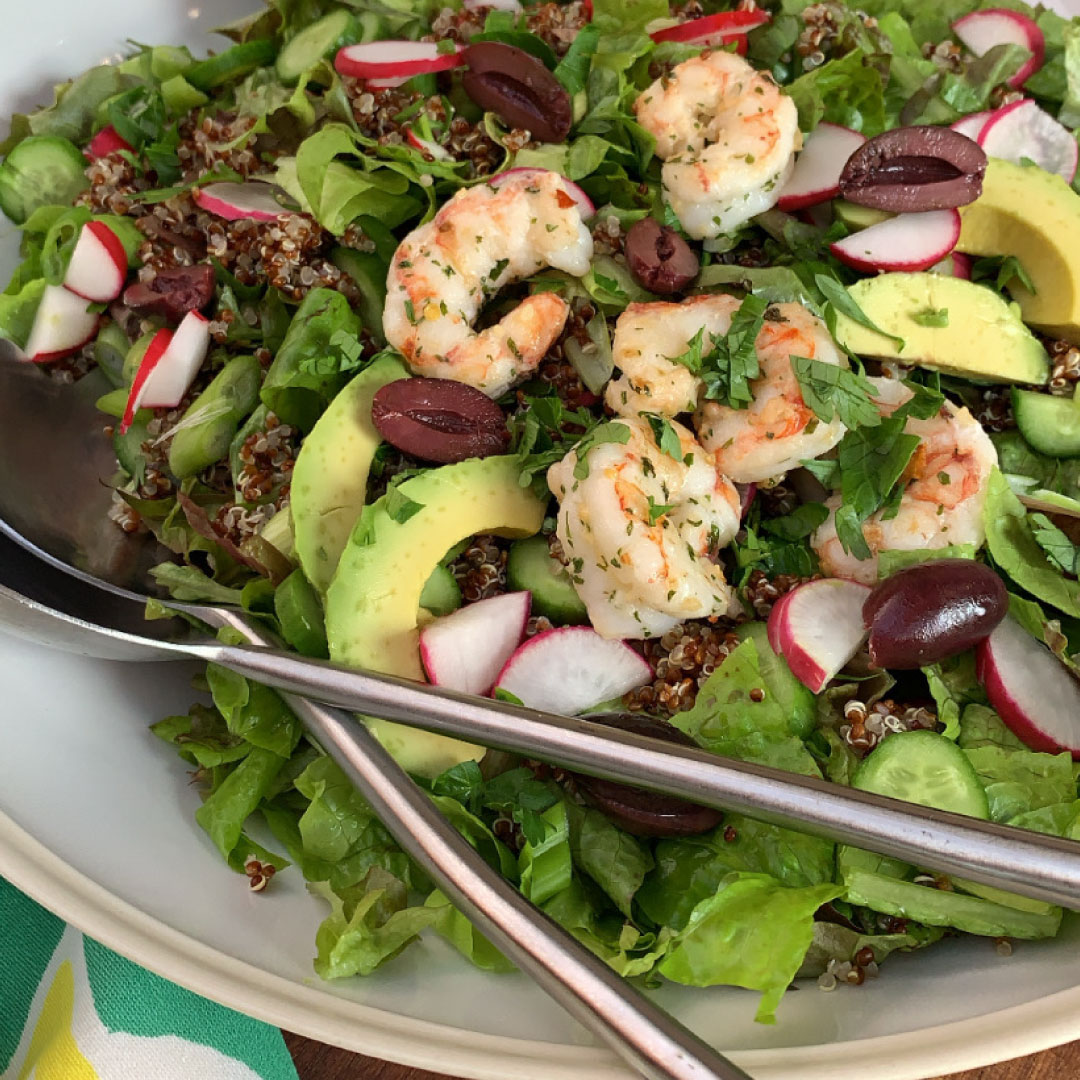 Summer Salad Bowl, for the win! ????
What would you say if I told you this amazing salad bowl could be assembled in 15 min?
Aside from the ease of putting it together, this is what I love about it:
⦿ Keeps you full for 3-4 hours [which helps to curb the night-time cravings].
⦿ Packed w/antioxidants, due to my "secret weapon" — Parsley!
Parsley helps stimulate kidney production of urine and draws excess water out of the abdomen, where it can cause discomfort and indigestion.
Translation: Eating parsley helps relieve excess bloating [aka water weight] in the tummy. I don't know about you, but when I gain a few lbs, it's in my belly and it's often excess water [at least that's what I tell myself]. ????
Bonus Tip: Make a pot of quinoa at the beginning of the week. This allows you to put this dish together in 15 minutes!
⦿ ½ c halved cherry tomatoes
⦿ 1 cuke [sliced w/seeds removed]
⦿ ¼ c chopped sweet onion [I ❤️ Walla Walla]
⦿ ¾ c sliced radishes
⦿ 1/3 c sliced Kalamata olives
⦿ Sliced avocado
⦿ 3 tbsp chopped fresh parsley
⦿ 2 c salad greens
⦿ Lemon & olive oil [to taste]
???? Mix 2 c quinoa w/all the veggies. Squeeze ½ lemon & 1-2 tbsp olive oil, add salt & pepper to taste.
Shrimp: ????
⦿ 1 lb cleaned/deveined shrimp
⦿ 2-3 cloves chopped garlic
⦿ ½ cup avocado oil or ghee [I ❤️ @ancientorganics]
⦿ 1 tbsp chopped parsley
???? Add all ingredients in a bowl and let the shrimp marinate for up to an hour.
???? In a large sauté pan on med heat, add 1 tbsp of ghee. Once it's pretty hot, add the entire shrimp mixture. Shrimp will let you know when they're done [they turn pink and are cooked in less than 5 min].
???? Now, assemble your bowl!
❶ Salad greens
❷ Quinoa & veggies
❸ Top w/shrimp
❹ Drizzle w/a little more lemon, evoo & sprinkle of parsley